13/08/2015 at 09:43
#3313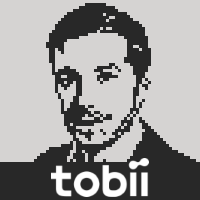 Konstantin [Tobii]
Keymaster
Dear Winston,
The only thing we were talking about in this thread is actually that this specific device, the Tobii EyeX, has a different purpose.
Of course we cannot develop every single device to fit all purposes, because then they wouldn't be good. Sometimes a company has to take decisions, do I want a good device, for 1 or 2 two certain purposes, or a rather ok device for 5 or 6 different purposes.
A different example…
Car manufactures… they build small cars, large card and transporters. However, you cannot use each of those cars for the same purpose, of course a small car has a trunk too, so you can put stuff in, but not an entire livingroom, neither will you be able to pull a heavy trailer. But with a transporter you will be, although you can't park it everywhere.
The Steelseries Sentry, has absolutely no need for a mouse emulator, as it's intended for E-Sports and to control computer games, have a look here: https://www.youtube.com/watch?v=-VzMd8itaLA
The Tobii EyeX dev-kit is for companies or developers to do something with eye tracking, a new software, or maybe additional features.
The Tobii EyeX Dev-Kit comes with quite a lot of software, 2 different SDK's, a low-level SDK and a high-level SDK, have a look here: https://www.youtube.com/watch?v=UJEA9Z3SaUo
I understand every single word of what you're saying or what you're requesting here. But you do actually request it from the wrong people.
Tobii Group is split up in 3 different parts, 1. Tobii Tech (consumer and integration – having this forum and the Tobii EyeX), 2. Tobii Pro (research), 3. Tobii Dynavox (global leader in AAC)
So please have a look at Tobii Dynavox website and you will find plenty of products which will suite your requirements better, also they will be able to help you with funding questions or similar (if required): http://www.tobiidynavox.com
Tobii Dynavox on Youtube: https://www.youtube.com/channel/UCSFhjTdkb4rt4GiIPmDypQA
For your Tobii EyeX, your can request a refund here: http://developer.tobii.com/support/return-eyex-controller/